Thanksgiving is my favorite holiday. It's about celebrating what I'm thankful for – my family, my friends, football, and feasting on fabulous food!   
I think George Bernard Shaw said it best, "There's no sincerer love than the love of food." With Thanksgiving quickly approaching, I asked our PROCESS EXPO family to share their favorite Thanksgiving recipes and traditions. Take a look at these amazing ideas! Which one(s) will you try?
Thanks to everyone to participated in this post! And thanks to Isabelle at Quicklabel for inspiring me for this post. Check out her Thanksgiving recipe post and the yummy dishes that are highlighted – including our submission for Stuffed Pumpkin!
---
Joy Williams is the Manager of Tradeshows and Events at Multivac.  Her family has a tradition of making Christmas gifts after they partake in the holiday feast. The grandparents take their little darlings in a room and make Christmas gifts for their parents. This year, Joy's family will be making Salt Dough Santa Handprint Ornaments. What a fun way to get into the spirit of the season!
Salt Dough Santa Handprint Ornaments
1/2 cup salt
1/2 cup flour
1/4 cup water
Mix ingredients in a bowl and knead until a dough forms. Make impressions with tools of your preference (eg. hands) and cut out the shape with a knife leaving a border for the final shape. poke a hole in the top for hanging. Bake at 200F for 3 Hours. Paint with your favorite colors, apply a sealant, and let dry.
---
John Weaver is the Sales and Marketing Manager of Fluid Transfer, Parts & Service for Lee Industries.  One of his favorite comfort dishes is his wife's Cheesy Oven Baked Potatoes.
Cheesy Oven Baked Potatoes
1 32 oz size hash brown potatoes
2 lbs. Ore-Ida hash browns (squares)
1 can cream of mushroom or chicken soup
1 pint sour cream
2 cups shredded cheddar cheese
1/2 cup chopped onion
3/4 cup melted butter
2 cups crushed corn flakes
Salt and pepper
Mix together hash browns, cream of chicken soup, sour cream, cheese, onions, salt and pepper, ½ cup melted butter. Spread mixture into 13x9x2 pan. Combine remaining butter and corn flakes. Top the mixture evenly. Bake at 350 for 1 hour.
Cook Time: 1 Hour
Yields: 8 servings
---
Rachel Duggins Miller, RedHeadDarling on Twitter, is one of our Social Media Friends who answered our call for family recipes. Rachel says that this side dish is a must-have on her family's holiday table. It combines sweet, salty and earthy elements to give a great taste of autumn:
Brussels sprouts with Pancetta and Chestnuts
2 1/4 lbs. Brussels sprouts
1 tbsp. vegetable oil
9 oz. pancetta, rind removed and cut into 1/2-inch cubes
2 tbsp. butter
8-9 oz. vacuum-packed chestnuts
2 fl. oz. Marsala wine
1 large handful fresh parsley, chopped, divided
Freshly ground black pepper
Slice the bottoms off each of the Brussels sprouts, cutting a cross onto the base as you go. Place the Brussels sprouts into a large saucepan of salted boiling water. Cook the Brussels sprouts for 5 minutes, or until they are tender but still retain a bit of bite. Remove the pan from the heat and drain the excess water from the Brussels sprouts. Heat the oil in a large clean saucepan. Add the pancetta cubes to the pan and cook until they are crisp and golden-brown in color, but not cooked to the point of having dried out. Add the butter and the chestnuts to the pancetta saucepan and with a wooden spoon or spatula, press down on them to break them up into pieces. Once the chestnuts have been warmed through, turn the heat up and add the Marsala to the pan. Cook until the mixture has reduced and thickened slightly. Add the sprouts and half the parsley to the saucepan and mix well. Season the Brussels sprouts with freshly ground black pepper. To serve, place the Brussels sprouts onto a warmed serving plate and sprinkle the remaining chopped parsley over the top.
---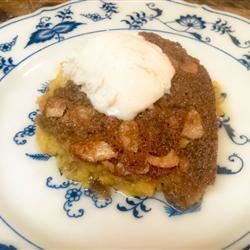 Patti Steele, at Steele Conferences, is our Operations Consultant for PROCESS EXPO. This recipe is one of her all-time favorites. Patti says that the dish is very flavorful and simple to prepare. She says that you'll love the creamy and mellow taste of the butternut squash. This dish is so popular with her family that she serves it as a main side dish for Thanksgiving and Christmas dinner. Yum!  
Butternut Squash Casserole
Casserole
1 butternut squash
1 cup white sugar
3 eggs
2 tbsp. all-purpose flour
1 1/2 cups milk
1 tsp. vanilla extract
1/4 cup butter or margarine
Salt to taste
Topping
1 lb. vanilla wafers
1 cup brown sugar
1/2 cup butter or margarine
Preheat oven to 425 degrees F. Soften the butternut squash in the microwave for 2-4 minutes. De-seed, add the squash to a pot of boiling water and cook for 15 minutes. Drain and mash. In a bowl, mix the squash, sugar, milk, vanilla extract, flour, eggs and margarine. Bake for 45 minutes in a 9x13" casserole dish. In another bowl, crush the vanilla waffers and mix with margarine and brown sugar. Layer the cooked casserole dish and return to the oven until browned.
Cook Time: 1hr 15min
Yields: 15 servings
---
John Sciabarrasi is in the marketing department at REISER. John's stuffing recipe comes straight from Palermo, Italy. This family favorite has been passed down for 3 generations. Grazie!
Stuffing for a 25lb turkey
3 lbs. of Curley Vermicelli (also known as bird nests) *Hard to find so either straight Vermicelli cut in half or Pastene sells a pasta in a nest that also works just fine.
11 lbs. of Pork butt (or Picnic cut more trimming involved and yield is less) bone-in. 6-7lbs without bone
3 lbs. of grated Romano cheese (not parmesan)
3 healthy bunches of fresh Italian plain leaf parsley
3-4 dozen eggs
1-2 bulbs Garlic
Olive Oil
Salt and Pepper
1 cup milk
Needle and thread
25 lb Fresh not frozen or injected turkey (no Butterball) they leave hole from the injection that you will need to sew up before stuffing
Take pork butt and cut into small cubes approx ¼" to 3/8" . Trim some fat but remember. Fat is flavor. Marinate pork for at least 2-4 hours in a mixture of olive oil 3 cups, entire bulb of garlic, pressed or chopped, 1 ¼ bunches of the parsley, leaves plucked and chopped coarsely for flavor release, 1 tablespoon of salt and table spoon of pepper  more if you like more and certainly less if you prefer less(if you like it hot you can use crushed red pepper). Mix occasionally. Cook pork in frying pan thoroughly and add salt and pepper as needed. (note: it is ok for the pork to be over seasoned because it will lose some flavor in the stuffing mixture) Also, pork butt needs more seasoning than most meats. Add cooking oil to mixture but do not through away as it will be included in the pasta.
Cook pasta in plenty of water with salt and olive oil. The nests need to be continually stirred to un-nest otherwise it will clump together. After cooking, put very little oil in the pasta so it doesn't stick.
Take 2-3 dozen eggs, 2 lbs of cheese and combine with the 1/2 cup of milk and blend. Add egg mixture to pasta in large pan or bowl. Add 2 tablespoons of salt and pepper and taste (you can either taste the raw mixture or take a cup of mixture in cook in microwave to test). Mixture should be very loose and eggy (you will most likely need to add the remaining eggs and cheese). If not, add more eggs. Once you are happy with flavor add in cooked pork and remaining parsley.
Take bird and separate the skin from the meat. You will need to pull out some strings. Make sure that you leave about ¾" on the back so the stuffing doesn't fall out the back. Also be sure to open around the legs.
Stuff the bird by pushing the mixture into the back areas and around legs. Try to get proper distribution of pork and pasta. It should be as tight as possible. When bird is full and tight you will close the skin with the thread to the body. In some instances you may need to take some skin from the back and add to the outer skin (we call it a skin graph). You must make sure the opening is closed and tight for the stuffing to cook correctly.
Take the bird in put in clean sink and run hot water (not scalding) over the bird to clean the bird and also to "set" the egg mixture. Cover with plastic wrap and foil and refrigerate overnight.
Take some oil and baste the entire bird. Place 2 cups of water in the pan to create humidity and increase the yield of gravy. Cover bird with foil for the first hour to hour and half unless you want to have a very dark skin color. Remove foil and baste frequently. Cook time is approximately 4-5 hours at 325. When testing the temperature (180 degrees) make sure to put probe into meat and not stuffing because it takes longer to get to the meat. Let the bird sit for 30 minutes before carving
Notes:
Pork can be prepared days in advance and frozen.
Pasta can be done a couple of days in advance.
Don't be afraid to season with salt, pepper and cheese. Cooking absorbs a lot of the seasoning.
Critical to have enough eggs to hold the pasta all together.
If you are having a smaller bird you can either modify recipe or make the recipe and you will have extra to make a casserole that can be given away.
---
Heather Galusha Ripley, DukeGal16 Twitter, is one of our Tweethearts who looks to bake and adapt items so that they're gluten-free. Heather adapted this brunch recipe from Karina's Pumpkin Muffins.  The muffins are moist and tender and the hint of chocolate makes them heavenly! Add chopped pecans for a nice little crunch.
Gluten-Free Pumpkin Chocolate Chip Muffins
1 cup sorghum flour
1/3 cup organic coconut flour
1/2 cup almond flour
1/2 cup tapioca starch
1 1/2 teaspoons baking powder
1 tsp. baking soda
1/2 tsp. sea salt
1 tsp. xanthan gum
1 tsp. ground cinnamon
1 tsp. ground ginger
1/2 tsp. nutmeg
1 1/3 cups packed organic light brown sugar
1 cup pumpkin puree (canned pumpkin is fine)
1/3 cup light olive oil
2 free range organic eggs, beaten, or Ener-G Egg Replacer whisked with 1/4 cup warm water for vegan
1 tbsp. bourbon vanilla extract
1/4 tsp.  lemon juice
1/2 cup vanilla almond milk or coconut milk
1/2 cup of dark or milk chocolate chips (Nestle and Hersheys are both gluten free)
In a large mixing bowl, whisk together sorghum flour, coconut flour, almond flour, tapioca starch, baking soda, salt, xanthan gum, cinnamon, ginger, and nutmeg. Add in brown sugar, pumpkin puree, oil, eggs, vanilla extract, lemon juice, and almond/coconut milk. Beat the batter to incorporate the ingredients. If it needs a little more liquid, add up to 1/4 cup almond or coconut milk until it is a smooth consistency. Stir in by hand the chocolate chips. If you don't like chocolate chips, use coarsely chopped pecans for a nice crunch. 
Preheat oven to 350ºF. Line a 12-muffin tin with paper cupcake liners. Spoon the batter into twelve muffin cups, filling them close to the top. Smooth the tops using the back side of a wet teaspoon. Bake in a preheated oven till domed and golden- roughly 22 to 25 minutes. The muffins should feel firm yet springy to a light touch. If a wooden pick inserted into the center emerges clean- these babies are done. Cool on a wire rack. Remove the muffins from the pan after five minutes, and allow them to continue cooling on a wire rack. This helps keep their bottoms from getting soggy. Wrap and freeze leftover muffins in freezer bags for easy on-the-go treats.
Cook time: 23 min
Yield: One dozen muffins
---
Julie Chiou is a self-proclaimed foodie and author of the blog "Table for Two" where you can find a plethora of recipes from all the elements of a full course meal to the most delectable treats for on the go. Just in time for the holidays, Julie stirs up a delicious recipe for Pumpkin Cheese Cake Bites that will leave your guests begging for more.
Pumpkin Cheese Cake Bites
For the graham cracker crust:
18 graham crackers (2 sleeves)
1 stick unsalted butter, melted
1/4 cup granulated sugar
For the filling:
1 15 oz. can of pumpkin puree
3 eggs
1/2 cup dark brown sugar
2 tbsp. heavy cream
1 tsp. vanilla extract
1/2 cup granulated sugar
1 tbsp. cornstarch
1 1/2 tsp. cinnamon
1/2 tsp. nutmeg
1/2 tsp. ginger
1/2 tsp. salt
20 oz. cream cheese, room temperature
For the whipped topping:
1 cup heavy whipping cream
Preheat oven to 400 degrees. Lightly spray a 8×8 baking pan and a 9×9 baking pan with cooking spray. Set aside. In a food processor, put the graham crackers in and pulse until finely ground. Pour out into a large bowl. Pour the granulated sugar on top and stir, then add the melted butter and stir until well incorporated and all the crumbs are moist. Divide the graham cracker mixture evenly amongst the 8×8 baking pan and the 9×9 baking pan. Press gently to the bottoms of the pans. Bake for 10 minutes, until slightly golden brown on top. Remove, set aside, and turn oven temperature down to 325 degrees. In a large bowl, whisk together pumpkin puree, eggs, brown sugar, and heavy cream. In the bowl of a stand mixer, cream together cream cheese, granulated sugar, cornstarch, cinnamon, nutmeg, ginger, and salt until light and fluffy. Gently pour in the pumpkin mixture and beat until well incorporated. Continue beating until no lumps remain. Divide the batter evenly amongst the 8×8 pan and the 9×9 pan. Bake for 40 minutes, or until the cheesecake starts to pull away from the sides. Let cool completely before cutting into circles. While the cheesecake cools, make your whipped cream. In a bowl of a stand mixer with the whisk attachment, whisk 1 cup of heavy cream until stiff peaks form. To pipe onto the individual circles, fill a piping bag with a large pastry tip.
Cook Time: 50 minutes
Yield: 16-18 servings
---